Hi and welcome to my photo album. These pictures were taken at our 2007 Phillips reunion held in Colquitt, Georgia. I hope you enjoy them.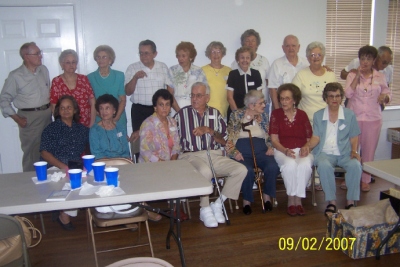 Grandchildren of John W and Nancy Jane Phillips
(back row) Bracy Phillips , Jennie Lillian P. Greene, Katie P. Dadher, Maston O. Phillips Florance P. Bepko, Loraine P. Blackman, Joanne P. Standridge, Paul Phillips, Emma P. Wacaser, Sarah Phillips ?, John "Wilson"Phillips.
Seated: Myra P. Strang, Wilkin P. Ruffin, Jean P. Vistart, John Oliver Phillips, Inez P. Wolff, Hazel P. Toole and Janie P. Sheffield