2. Martha PHILLIPS was born about 1808 in Georgia and married about 1830 to Stephen RICH, b. abt 1805. Martha died after 1885 in Manatee Co., Fl.

Children:
i. Isaac RICH b. 1833 Decatur Co., Ga.
d.1863, Gordonville, Va.

ii. George Washington RICH b. 1836, Decatur Co., Ga.
m. Georgianna SWAIN.
George d.died in Gettsburg, Pa.

iii. Absolomon RICH b. 1840

iv. Jordan RICH b. 1842

v. Elvira RICH b. abt 1845, Decatur Co., Ga.
m. John SWAIN.
She died Manatee Co., Fl.

vi. Nancy RICH b. 1846, Decatur Co., Ga
m. Charles BRYANT.
She died in Manatee Co., Fl.

vii. Joanna RICH b.22 Sept 1849
m. John STEWART.
She died 17 Oct 1934 Hardee Co., Fl.

viii. Alfred RICH b. 1856
m. Mary Ecaline STEWART.
He died 4 Oct 1912, Manatee Co., Fl.

3. Jourdan PHILLIPS was born abt 1810 in Georgia and married on 1 May 1834 in Decatur Co., Ga to Nancy DEES. She was born 1819. She died in Decatur Co., Ga. Jourdan's estate was probated March 11, 1854 in Decatur Co., Ga. where he died.

Children:
i. Harriett PHILLIPS b. 1836
m. William A. FOLDS

ii. Elijah PHILLIPS b. 1838
m.24 Jan 1856 Mary Ann POWELL

+4 iii. John A. PHILLIPS b.12 Dec 1840

iv. E. Rutha PHILLIPS b. 1845; d. 1910
m. Thomas B. YEARTA

v. Nancy PHILLIPS b. 1846

vi. Moses PHILLIPS b. 1849

vii. Melissa PHILLIPS b. 28 Dec 1850
m. Wade Washington Haire

THIRD GENERATION

4. John A. "Grandser" PHILLIPS was born 12 Dec 1840 in Georgia. He married in 1858 to Nancy Lucille Powell, born 2 Mar 1842 in Ga, d. 17 June 1920 in Miller Co., Ga. John died 11 Dec 1902 in Miller Co., Ga.

John A. and Nancy Lucille Powell Phillips.

Nancy Powell Phillips
Children:
i. William Dared PHILLIPS b. 11 Aug 1859
d. 20 July, Miller Co., Ga.
ii. Clara PHILLIPS b. 1862
m.George Washington Wells b. 1852; d. 1934
Clara died in 1945
+5 iii. Nancy Jane PHILLIPS b. 13 Sept 1866
iv. John Berry "Dennis" PHILLIPS
b. abt 1870; d. 1926.
v. Melease Ann PHILLIPS
b.6 Feb 1874; d. 28 Nov 1881, Miller Co., Ga.
vi. Rannie Linda PHILLIPS b. 1877
m. Thomas J. RAWLS, D. 1877; D. 1940.
Rannie D. 1948
vii. Estell Arona PHILLIPS b. 1881
m. Maston SPOONER
Estelle died 1949
viii. Mary Grover PHILLIPS b. 1885
m. Benjamin Franklin "Frank" RAWLS
Mary died 1959.
FOURTH GENERATION
5. Nancy Jane PHILLIPS was born 13 Sept 1866 in Ga. She married on 24 May 1882 to John Wilson PHILLIPS, b. 25 Aug 1860 (son of John PHILLIPS and Edith BARLOW) d. 13 Nov 1922 in Miller Co., Ga. Nancy died 25 Feb 1945. Both are buried at Pilgram's Rest Baptist Church.

Children:
+6 i. Ludie Eustus
+7 ii. John Perry
+8 iii. Billy Buford
+9 iv. Smiley Wilkin
+10v. Idus Oliver
+11 vi. Dewey Wilson
+12 vii. Cappie Clara
+13 Viii. Maston O'Neal
ix. Nancy Jennie Lillain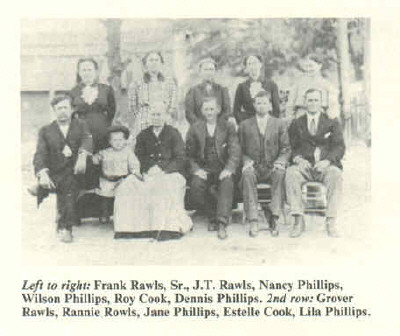 This was taken in 1912 at family reunion.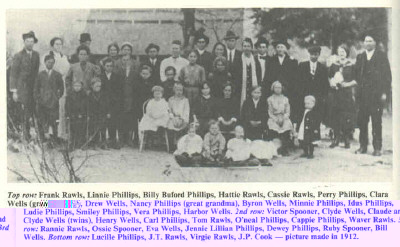 Another picture of the 1912 Phillips reunion.
GENEALOGY home page.
---